Darkness and Flame: Enemy in Reflection Collector's Edition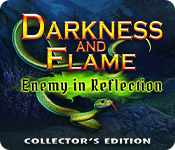 1.37 GB

ダウンロード
このゲームは英語版です。Another epic return to the stunning fantasy world of Darkness and Flame from FIVE-BN GAMES. Something wasn't right when Alice woke up from a dream that felt all too real. Her mother assured her that there was nothing wrong, but it wasn't long before Alice learned the truth. She was only trying to do the right thing, but the right thing went very wrong, and now the monster that she accidentally unleashed must be stopped! To make matters worse, her friends were the most recent victims of the monster's curse, so she'll have to set out on her own this time. Help Alice explore beautiful vistas to find long-forgotten secrets, solve puzzles, and collect the tools to stop the ancient evil in this fantastic Hidden-Object Puzzle Adventure! - Darkness and Flame: Enemy in Reflection Collector's Edition
Darkness and Flame: Enemy in Reflection Collector's Edition
:
Explore new lands in search of a means to stop the ancient evil that threatens the world as we know it.
Get help from new friends and unforgettable characters.
Complete special item collections and search for dozens of morphing-objects.
Enjoy gorgeous locations, stunning graphics, exciting mini-games, and brain-teasing puzzles!
Windows 7/Windows 8/Windows 10 - 2.0 GHz - 2 GB
トップパズルゲームMore
ゲームパズルゲームMore