Mindframe: The Secret Design Collector's Edition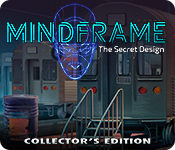 716 MB

Download
This game is English only.Mad Head Games brings you a thrilling crime story in the all-new Mindframe: The Secret Design! William Rodgers had had an unexpected side-effect after an experimental medical trial in college. The power to read minds! He's kept his ability a secret ever since, but now someone knows the truth, and William is caught in a dangerous game of cat and mouse with a madman calling themselves "The Designer." Who is The Designer? How do they know about William's secret power? Most importantly, what do they want? Explore hidden object scenes inside people's memories to find the clues, solve the mystery, and bring down the Secret Design in this gripping new Hidden-Object Puzzle Adventure! - Mindframe: The Secret Design Collector's Edition
Mindframe: The Secret Design Collector's Edition
:
See if you have the mental fortitude and the detective skills to prevent a catastrophe in the bonus game!
Earn a variety of unique achievements!
Tons of collectibles and morphing objects to find!
Enjoy replayable HOPs, exclusive wallpapers, soundtrack, concept art, treasure room, an ultimate HOP, and more!
Never get lost with the strategy guide!
Windows 7/Windows 8/Windows 10 - 2.0 GHz - 1 GB
Top PuzzleMore