Dark Tales: Edgar Allan Poe's The Raven Collector's Edition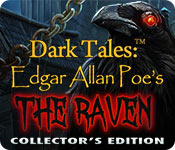 1.15 GB

Download
ERS Game Studios presents the thrilling next installment in the best-selling Dark Tales series! The renowned archaeologist Alan Dillinger is dead, seemingly by his own hand. At his side is a note detailing his love for a woman named Lenore. It seems to be a simple case of romance gone wrong. But the mysterious client who summoned you isn't so sure. He believes Alan was murdered! And he's not the only one. Join the brilliant detective Dupin and dive into a world of lies, betrayal, and revenge. You'll soon find yourself on the trail of the enigmatic White Crow, who takes a more deadly approach to solving the case. Can you uncover the truth? Find out in this chilling hidden-object puzzle adventure game! - Dark Tales: Edgar Allan Poe's The Raven Collector's Edition
Dark Tales: Edgar Allan Poe's The Raven Collector's Edition
:
Stop the Raven Society from plunging the world into darkness in the bonus chapter!
Experience the wonders of the mechanical scarab and the memory chest.
Collect hidden characters to unlock the secrets of the Raven Society!
Earn achievements and replay your favorite mini-games.
Enjoy game screensavers, soundtrack, and more!
Windows XP/Windows Vista/Windows - 1.8 GHz - 1 GB
Top PuzzleMore